About Us
The farm Otjimbondona was bought by Ida + Steve Slaney in 1922 to farm with sheep and cattle. After Wilfried's parents, Hermann and Helga retired from farming, Wilfried and Anita, took over the farm in 2008 as the third generation of cattle and sheep farming Slaneys and subsequently added tourism to their farm venture.
The original farm house was built in 1923 by a well-known Italian mason. It consisted of just two rooms at the time and was built with locally sourced stone (klip). Wilfried's father was born in one of the original rooms, now our Curio Shop, in 1928. The house was extended considerably in the following years, but was left unoccupied
in later years and it deteriorated to such an extent that it could not be saved, except for the two original rooms.
Wilfried and Anita have been in the tourism business since 1991, offering fly-in safaris throughout Namibia and its neighboring countries. They have always dreamed of building their own lodge and in October 2012 this dream was finally being turned into reality. The plans were drawn up by their son-in-law Thorsten and the start of their exciting adventure (and accompanying stress) began shortly afterwards. With the help of Leon Dixon, a local builder and his team, the work was completed in October 2014 and the Slaneys are now welcoming guests from around the world to come and experience the peace, tranquility and our hospitality at Otjimbondona Kalahari.
Fact Sheet
Our Team
Our staff is close to our hearts, as we are a small and personal team and not only do we want our guests to feel at home, but also our staff is part of this homely atmosphere. It took a while to find the right people that make it all work, but are now happy to introduce our team. None of our team comes from a hospitality background, we all had an in-house training and learnt by doing here at Otjimbondona.
GAIL
Gail and Ruffel started as farm managers for us in 2008, when we took over the farm, but still stayed in Windhoek and had our businesses there. When the lodge started a chef was needed and that is where Gail is now in her element to prepare the finest foods for our guests. She tries to use as much as possible from our local, organic meats and garden produce as available. Gail is in charge of the kitchen, not only the food preparing, but see to it that all is there. She is also still helping Wilfried with the farm work.
FILEMON
Filemon worked as a salesman for successful companies in Windhoek for a period of time, therefore he has a great background of working well with people and a great vocabulary in English. He is the youngest of the Otjimbondona family when he joined us in the year 2021 as a waiter, kitchen assistant and also attending to guests wishes. He greats the guests with the biggest, friendliest smile when arriving while carrying all their luggage to their luxuries villas.
HAUFIKO
Haufiko, our elder, has started as farm worker some years ago and was happy to help wherever it was needed. When the lodge started he joined us at Otjimbondona as helping hand for everything. He sees to it that the Manor House is always ready for guests, lays and decorates lunch and dinner tables with a passion and sees to the dishes in the kitchen till late at night.
Lazarus
Lazarus started as a very young man working as a farm worker and was mainly busy with building. When he arrived he could only speak Oshiwambo, but the other farm workers learned him to speak Afrikaans. On his own request he asked us to learn him English, to speak and write. Lazarus is always eager to learn everything - from gardening, cleaning and waiter. Lazarus has a hobby here with us and we call him the "Gurrgurr" whisperer, which means he sits with the Meerkats every morning and also takes the guests early mornings to show them where the Meerkat Hotspot is.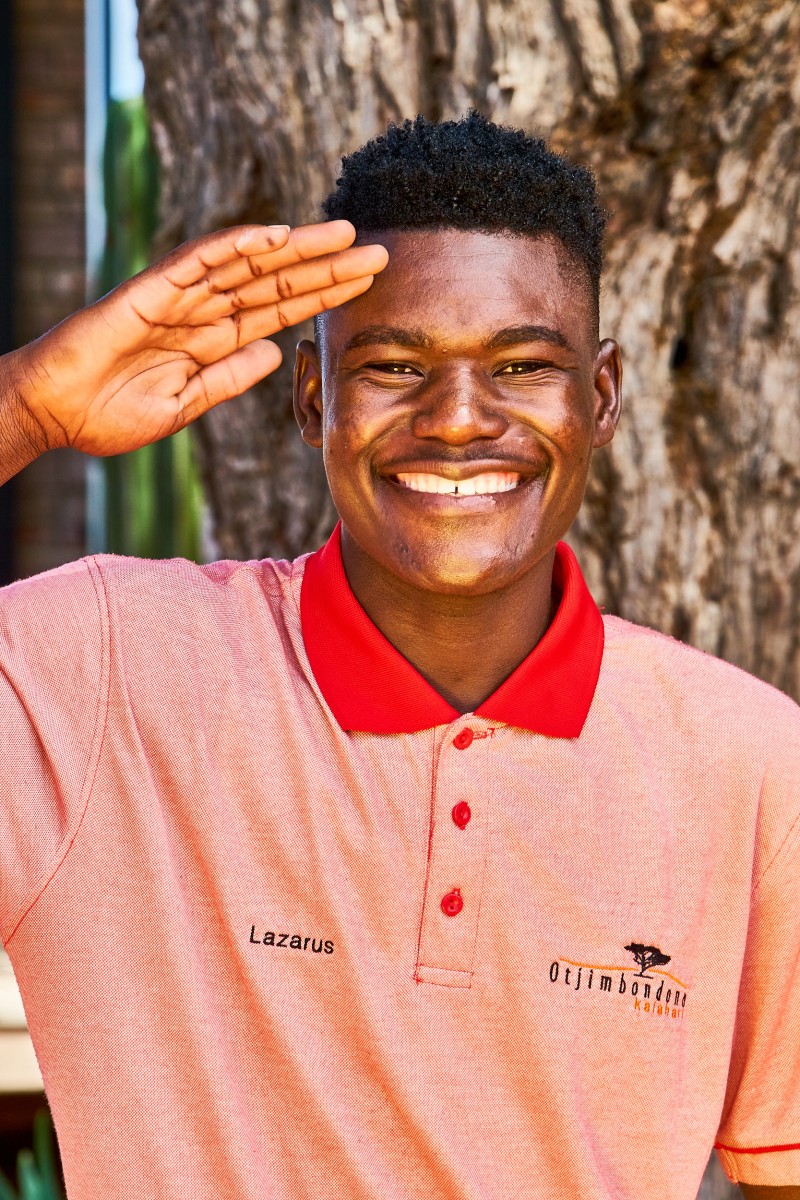 JOHNNY
Johnny also started as farm worker but is now in charge of all the swimming pools, the outside of the lodge as well as our vegetable garden and fruit trees. Without a doubt will he be seen in the kitchen in the evenings when the dishes get too much for Haufiku alone, always with a smile.
FEDRIKA
Fedrika is family of our farm workers. She is a lovely lady seeing to the cleanliness of the lodge and Villas with such enthusiasm and final touches. She, together with Elisabeth, are also helping in the laundry and are hands-on with decorating the breakfast tables and buffet. Fedrika says that she is so happy to work at Otjimbondona as a team.
KORDENSIA
Kodensia started her journey here at Otjimbondona in 2019. Together with Fedrika she enthusiastically sees to the cleaning of the Villas and dressing the beds neatly. Kodensia is with no doubt a motivated, hard working and disciplined person. Kodensia set herself a goal to achieve a good position in her career and by so helping others.
JOSEFINA


Before Josefina joined the Otjimbondona family she worked at a supermarket in Windhoek,also gaining the background of how to work with people confidently. Josefina is also the youngest of the group when she joined us in 2019. She started as a housekeeper and helping in the kitchen. In September 2022, Josefina went for a massage training in Windhoek at Shadonia Beauty Salon where she achieved her certificate. Now she spoils the guests with various massages in the villas or Sala, caring for their wellness.
ELISABETH
Elisabeth is the wife of one of our farm workers and is in charge of the laundry - washing and ironing all day.